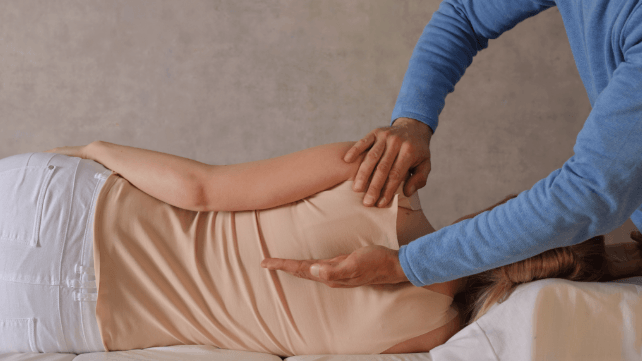 We help you heal by not just treating the symptom, but also fixing the root cause.


When you're hurt, we want to be there for you. We are a group of physiotherapists who understand the unique challenges faced by people who live with chronic pain, disability, or other health issues. We can help you get back on your feet and live life to the fullest. We strengthen your muscles and make you self-reliant.

We offer home-based physiotherapy to people of all ages, a 12-year-old student, a 30-year-old techie, or a 65-year-old senior citizen. We can help you relieve pain, improve movement ability, prevent/recover from sports injury, prevent disability or surgery, rehabilitate after a stroke or accident, manage chronic illness like diabetes or heart disease, control bowel and bladder functions—and so much more.


Our physiotherapy centre specialises in helping students, desk workers and senior citizens improve their movement ability and balance so they don't have to worry about slipping, falling, or getting injured at work.
Our home-based physiotherapy treatments are customised to your specific needs. Our expert physiotherapists will assess your condition and develop a treatment plan that meets your goals and lifestyle. We'll work with you over the phone or via video calls, and through home visits, so there's no need to worry about travelling to our office.
And just because we customise our approach doesn't mean that our treatments are limited to one type of therapy. We offer paediatric physical therapy (prepare your child when their body grows very fast) as well as post-operative rehabilitation (recover from surgery).
So whether it's preventing slip or fall injuries or improving balance so you don't end up in a wheelchair by age 50, we're here for you! Our physiotherapist will help the patient with home based physiotherapy intervention. If your health care requires sports physiotherapy, we are just right for you. We offer manual therapy, and physiotherapy exercises for any fracture, and mobility issue. Our rehabilitation program is a systematic review of every functional outcome to ensure public health and functional mobility. The primary outcome of our physiotherapy sessions is to ensure patient adherence for positive outcome measures. A person suffering from chronic diseases can also make the most of our mobility programs.
Call us today at +91-77601-37578 to schedule an appointment!
At Posture Clinic, we believe that everyone deserves the chance to be healthy. That's why we offer home-based physiotherapy, so you can get the treatment you need without having to leave your home or family. The treatment is designed to relieve pain and improve movement ability, while preventing disability and surgery. It's also used to rehabilitate after a stroke, accident or injury, as well as manage chronic illnesses like diabetes, heart disease or arthritis. And it can even help control bowel and bladder functions as well as adapt to an artificial limb or use walker/canes.
We are committed to helping people live their best lives possible—and providing effective home-based physiotherapy is just one way we do it!
Physiotherapy is a medical treatment that helps you recover from injury, illness or surgery.
If you are suffering from pain in your body or have trouble moving, it could be caused by a number of different things. Physiotherapy can help relieve the pain or improve your movement ability. It can also prevent disability and surgery, and help you recover from sports injuries. A licensed physical therapist knows that physical activity is the best sports medicine without chemicals for any kind of injury.
At Posture Clinic, we believe that physiotherapy doesn't have to be a hassle. We know that it can be scary to think about having to go in for treatment, but we want you to know that it's actually quite pleasant.
Our patients often tell us that they feel relaxed and confident in their recovery, and they know we're here for them if they need anything.
That's why we love what we do—we get to make people feel better than they ever thought they could while also providing a great service for everyone in the community!


Our Variety Of Services
Relieve pain
Improve movement ability
Prevent / Recover from sports injury
Rehabilitate after a stroke, accident, injury or surgery
Improve balance to prevent slip or fall
Manage chronic illness like Diabetes, heart disease or arthritis
Control Bowel and bladder
Adapt to an artificial limb or use walker/canes
We Provide Treatments For Musculoskeletal Disorders Like:
Osteoarthritis
Rheumatoid arthritis
Ankylosing spondylitis
Fibromyalgia
Gout
Polymyalgia Rheumatica
Lupus
Juvenile Arthritis
Back pain
Work-related upper limb disorders
The Range Of Treatments
Posture rehabilitation for treating the root cause and not just the symptoms.
Treatment and prevention of slip disc, disc bulge, and disc prolapse. Pre and post natal rehabilitation.
Physiotherapy treatment are provided to relieve pain, improve movement ability and prevent disability/surgery.
Rehabilitate after a stroke, accident, injury or surgery.
Improve balance to prevent slip or fall.
Manage chronic illness like Diabetes, heart disease or arthritis -Control Bowel and bladder. -Adapt to an artificial limb or to use walker/canes
Balance assessments (to help prevent slip or fall)
Balance training (to manage chronic illness like diabetes, heart disease or arthritis)
Pelvic floor rehabilitation (to control bowel and bladder)
Walking assessments and training (after an artificial limb or to use walker/canes)
TYPES OF PHYSIOTHERAPY TREATMENTS
Our mission is to help our clients achieve their optimal health by providing them with preventative exercises and physical strengthening treatments that will keep them moving towards their goals. We want to help you live a better life.
Pediatric Physical Therapy
Pediatric physical therapy is a great way to help your child grow into the best version of themselves. It's also a way to help them get through the physical challenges that are associated with growing up so quickly. This can be anything from hip dysplasia to flat feet, but it can also be about helping your child develop a strong sense of self and overcome the obstacles they're facing in a healthy way.
Neurological Physical Therapy
The effects of neurological problems on muscles and movement can be smoothed off and made much more manageable. The conditions we provide care for include spinal cord injuries, strokes, multiple sclerosis, Parkinson's, Alzheimer's, brain injuries and cerebral palsy, among others.
Vestibular Rehabilitation
Vestibular rehabilitation focuses on helping you overcome problems of the inner ear which can destroy your balance and be seriously debilitating. Our physiotherapists can help you to teach your body to have better balance and use its muscles to be steadier and sturdier.
Orthopedic Physiotherapy
You've suffered an injury that has left you unable to use certain muscles. If this is the case, don't worry—we can help. Our physical therapy programs are designed to help you recover muscle strength, so you can return to your normal routines as quickly as possible.