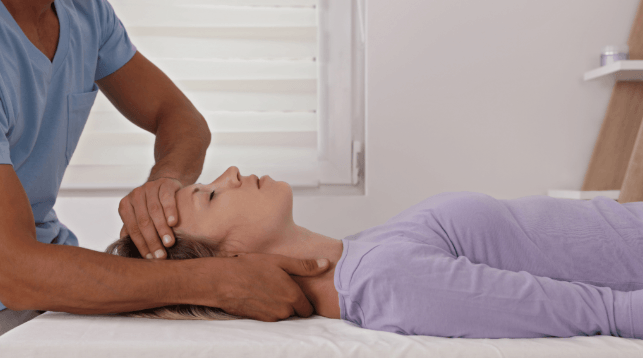 PHYSICAL THERAPY & spine alignment

Welcome to Posture Clinic!
We're a friendly, helpful team of physical therapists who can help you get back to your best self. We offer rehabilitation services for all kinds of ailments-from sports injuries to arthritis and beyond. Our therapists and spine specialists are trained in both manual therapy and exercise prescription, so they'll be able to give you the best possible care while also giving you the tools you need to help yourself in the future.


If you've been injured, we can help with that too. A lot of people think they have to live with pain forever after an injury or surgery, but that's not true! We can make sure that you feel better in no time.
Ready to get started? Book an appointment now!


We don't just treat the symptoms, but also the root cause

At Posture Clinic, we believe that the only way to live a healthy life is by maintaining good posture and balance. That's why we have created this exclusive service for those suffering from postural issues.
Our physiotherapists have been trained in all kinds of ways to help you get back on track with your work and life, so that you can start feeling like yourself again. We're here to help you get back in the game with posture hygiene.
We provide physiotherapy treatments for all ages and fitness levels that can help relieve pain, improve movement ability and balance, prevent injury and surgery, rehabilitate after a stroke or injury, manage chronic illnesses like diabetes or heart disease, control bowel and bladder function for those with mobility issues such as paralysis or amputation-all without medications!


Call us today at +91-77601-37578 or +91-97423-77870 to schedule an appointment!
At Posture Clinic, we help you balance work and life.
We understand that you're busy—and that you need help with your posture and balance. Whether you're a 12-year-old adolescent, a 30-year-old software engineer or a 50-year-old CEO, we can help.
Our team of expert physiotherapists will assess your mobility and stability, then provide you with the treatment that's right for your situation. We'll work with you to develop a plan to relieve pain, improve movement ability, prevent injury, rehabilitate after surgery or a stroke—or even just manage chronic illnesses like diabetes or heart disease. Whatever the goal, our mission is to keep you moving forward so that you can continue working hard without worrying about whether your body will hold up.
Are you sitting for long hours? Then we need to talk about your posture.
It's important to have good posture, but it can be hard to do if you spend all day hunched over a computer screen. That's why Posture Clinic is here to help!
Our physiotherapy centre specialises in helping students, desk workers and senior citizens improve their movement ability and balance so they don't have to worry about slipping, falling, or getting injured at work. We want people like you to be able to live a healthy, active lifestyle without having to choose between work and life. That's why we offer our services for both preventative care and rehabilitation after an accident or injury—so you can get back on your feet faster than ever before.
Don't let bad posture hold you back from living the life you want! Book your appointment today!
You're a busy person. You have a job, friends, and family—and your health is important to you. But sometimes it's hard to balance all of the things you want to do with the pain you feel when you're going about your day.
We offer physiotherapy treatment for people who are suffering from pain, limited movement ability, sports injuries, chronic illness like diabetes or heart disease, or even just wanting to improve their balance so they can prevent falls.
We know that when you're dealing with pain or limited movement ability, it can be hard to get out there and do what you want to do—but that doesn't mean it's impossible! We've helped hundreds of people just like you achieve their goals and get back on track with their lives by treating their symptoms and teaching them how to manage them better so they can live life without limits.
So if you're ready to take the next step toward getting back into the swing of things? Bring your medical records, if any, and get started today with our range of therapy services. Referring physicians know why they recommend therapeutic exercise, electrical stimulation, and physical therapist assistants. We have a treatment plan for your health care, including brain injury, pelvic pain, chronic pain, or any other physical condition. A licensed physical therapist knows that physical activity is the best sports medicine without chemicals for any kind of injury.
You Need Posture Correction If:
Posture correction
Spine alignment
Posture habit re-education
Relieve pain
Improve movement ability
Prevent / Recover from sports injury
Rehabilitate after a stroke, accident, injury or surgery
Improve balance to prevent slip or fall Manage chronic illness like Diabetes, heart disease or arthritis
Control Bowel and bladder Adapt to an artificial limb or use walker/canes
What Are Your Pain Points?
Do you suffer from backache, shoulder pain, neck pain or stiffness?
Do you have a weak grip?
Do you have difficulty getting up from a chair or bed?
Do you experience fatigue and dizziness?
Do you have problems standing for long periods of time?
Do you have difficulty walking short distances?
Are you suffering from chronic back pain, neck pain, headaches, fatigue, or dizziness?
Do you have difficulty moving around the office?
Do you feel like your job is killing you?
Do you want to improve your posture and balance so that work doesn't kill you?
The Range Of Treatments
Posture rehabilitation for treating the root cause and not just the symptoms.
Treatment and prevention of slip disc, disc bulge, and disc prolapse.
Pre and post natal rehabilitation.
Physiotherapy treatment, including geriatric physical therapy, are provided to relieve pain, improve movement ability and prevent disability/surgery.
Rehabilitate after a stroke, accident, injury or surgery.
Improve balance to prevent slip or fall.
Manage chronic illness like Diabetes, heart disease or arthritis -Control Bowel and bladder.
Adapt to an artificial limb or to use walker/canes
Balance assessments (to help prevent slip or fall)
Balance training (to manage chronic illness like diabetes, heart disease or arthritis)
Pelvic floor rehabilitation (to control bowel and bladder) for pelvic health
Walking assessments and training (after an artificial limb or to use walker/canes)
TYPES OF PHYSIOTHERAPY TREATMENTS
Our mission is to help our clients achieve their optimal health by providing them with preventative exercises and physical strengthening treatments that will keep them moving towards their goals. We want to help you live a better life.
Pediatric Physical Therapy
Pediatric physical therapy is a great way to help your child grow into the best version of themselves. It's also a way to help them get through the physical challenges that are associated with growing up so quickly. This can be anything from hip dysplasia to flat feet, but it can also be about helping your child develop a strong sense of self and overcome the obstacles they're facing in a healthy way.
Vestibular Rehabilitation
Vestibular rehabilitation focuses on helping you overcome problems of the inner ear which can destroy your balance and be seriously debilitating. Our physiotherapists can help you to teach your body to have better balance and use its muscles to be steadier and sturdier.
Neurological Physical Therapy
The effects of neurological problems on muscles and movement can be smoothed off and made much more manageable. The conditions we provide care for include spinal cord injuries, strokes, multiple sclerosis, Parkinson's, Alzheimer's, brain injuries and cerebral palsy, among others.
Orthopedic Physiotherapy
You've suffered an injury that has left you unable to use certain muscles. If this is the case, don't worry—we can help. Our physical therapy programs are designed to help you recover muscle strength, so you can return to your normal routines as quickly as possible.