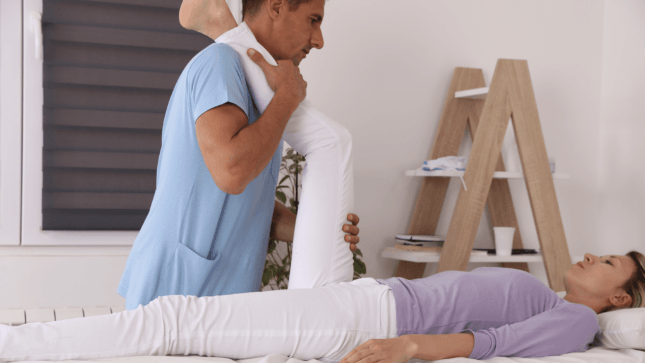 SPORTS INJURY REHABILITATION and injury prevention
Sports injuries are a big problem for athletes of all ages. In fact, sports injuries account for over 3 million visits to doctors' offices each year and more than half of those visits occur among school-age children who are participating in organised sports. Fortunately, our Sports Injury Rehabilitation program can help! After all, you exercise to be healthy, and not to be injured. Sports Injury Rehabilitation treats a range of athletic performance conditions, including acute sports injuries, strains, sprains, muscle, tendon and ligament repairs, tendonitis, hand injuries, shoulder dislocation, foot or ankle dysfunction and surgery rehab. You'll receive progressive exercises, including ACL injury prevention, that ensure your injury site returns to a fully functional state and will be treated by our skilled staff who use proven techniques such as functional activities; sports/activity specific exercises and training; bracing and taping (athletic and kinesio taping); fabrication of protective pads; muscle reconditioning; and proprioceptive training to get you back on track before you know it!

WHO WILL THIS BENEFIT Sports medicine will benefit a young athlete who is receiving athletic training and incurring common injury. Besides, people recovering from post-operative injuries after ACL reconstruction or meniscus tears; athletes who need post-operative care following ACL reconstruction or meniscus tears; sportspersons who have sustained an acute or chronic musculoskeletal injury such as a sprain or strain; runners who have sustained an acute or chronic musculoskeletal injury such as tendonitis or bursitis; or people who participate in high impact activities, such as jumping jacks, running, or knee-highs. If you're suffering from an injury, it's time to get back to the sports you love.
THE TECHNIQUES WE USE AT POSTURE CLINIC
If you're an avid sportsperson, or just want to be one, Sports Injury Rehabilitation is for you. High performance training carries an injury risk. The injured athlete needs sports science to overcome pain and any sports related injury. Our rehabilitation specialist will treat bone injuries caused by any physical activity through sports rehabilitation.

Elite sports professionals rely on our rehabilitation professionals to fix any leading sports injury. Our injury prevention strategies include strengthening your muscles, employing footwear corrections, and enhancing your muscle memory with re-education. Preventing sports injuries is a crucial element of sports injury risk management.
We understand how important it is for you to stay on top of your game, and we want to help. That's why we offer a range of services, from orthopaedic surgery rehabilitation to tendonitis and bursitis treatment, all with the goal of getting you back on the field as soon as possible.
Our experienced team will work closely with you to ensure that your rehabilitation process is individualised and tailored specifically to your needs. Our techniques include functional activities, sports/activity specific exercises and training, bracing and taping (athletic and kinesio taping), fabrication of protective pads, modalities, manual therapy, muscle reconditioning, and proprioceptive training—all designed to ensure that when you leave our office, it's with a body that's ready for anything!
You've got all the right moves, but you're not quite ready to put your body through the rigours of the game.
We get it: You're not a professional athlete. You don't have a team of doctors and trainers standing by, ready to help you when you get injured—you just want to be able to enjoy your favourite sport without having to worry about getting hurt.
That's where we come in. We're here for you when you need us most, so you can keep doing what matters most: playing!
You can count on us to prevent injury, and also help you with any form of injury, such as ACL tear, through rehab services designed with athletes in mind, so you'll be back on the field in no time.
Are You Suffering From...
Hunching your back and your rounded shoulders
Acute sports injuries
Strains
Sprains
Muscle, tendon and ligament repairs
Tendonitis
Hand injuries
Shoulder dislocation
Foot or ankle dysfunction
Surgery rehab
This Program Benefits People With:
Post-operative injuries
ACL reconstruction
Meniscus tears
Rotator cuff repair
Acute and chronic musculoskeletal injuries
Sprains and strains
Tendonitis and bursitis
Treatment Techniques
Functional activities
Sports/Activity specific exercises and training
Bracing and taping (athletic and kinesio taping)
Fabrication of protective pads
Modalities
Manual Therapy
Muscle reconditioning
Proprioceptive training
TYPES OF PHYSIOTHERAPY TREATMENTS
Our mission is to help our clients achieve their optimal health by providing them with preventative exercises and physical strengthening treatments that will keep them moving towards their goals. We want to help you live a better life.
Pediatric Physical Therapy
Pediatric physical therapy is a great way to help your child grow into the best version of themselves. It's also a way to help them get through the physical challenges that are associated with growing up so quickly. This can be anything from hip dysplasia to flat feet, but it can also be about helping your child develop a strong sense of self and overcome the obstacles they're facing in a healthy way.
Neurological Physical Therapy
The effects of neurological problems on muscles and movement can be smoothed off and made much more manageable. The conditions we provide care for include spinal cord injuries, strokes, multiple sclerosis, Parkinson's, Alzheimer's, brain injuries and cerebral palsy, among others.
Vestibular Rehabilitation
Vestibular rehabilitation focuses on helping you overcome problems of the inner ear which can destroy your balance and be seriously debilitating. Our physiotherapists can help you to teach your body to have better balance and use its muscles to be steadier and sturdier.
Orthopedic Physiotherapy
You've suffered an injury that has left you unable to use certain muscles. If this is the case, don't worry—we can help. Our physical therapy programs are designed to help you recover muscle strength, so you can return to your normal routines as quickly as possible.