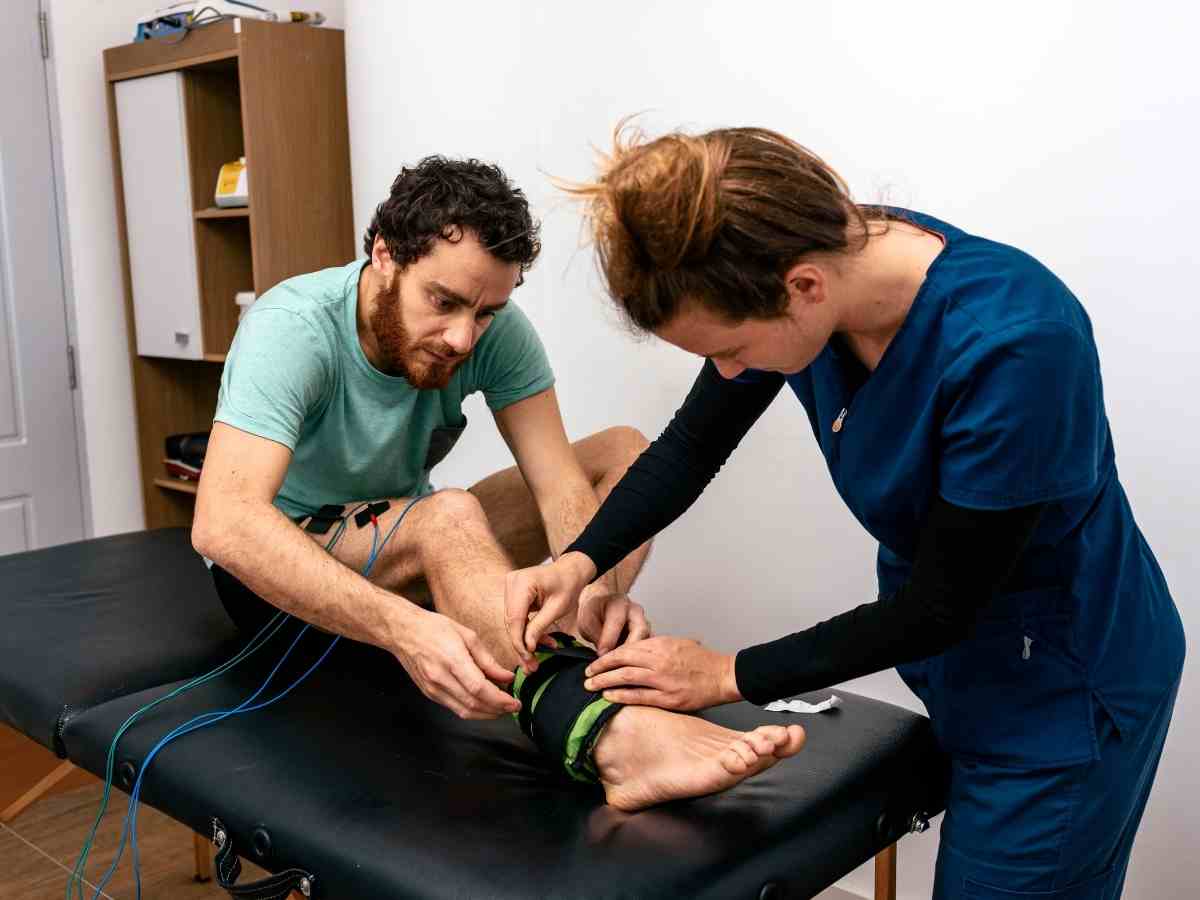 PRE-SURGERY REHABILITATION
You've been putting off getting that surgery for months. You're tired of taking painkillers, you're tired of being in pain, and you just want to get it over with. But there's one thing stopping you from making an appointment: you're worried about the recovery process.
What if it's not as easy as your doctor said it would be? What if your recovery doesn't go as smoothly as other people's? What if the pain is worse than what you're feeling right now?
Well, guess what: all of those things are totally possible! And they can all be avoided by taking proactive steps before your surgery. Pre-operative rehabilitation is a vitally important component to anyone wanting to optimise their recovery following surgery. Pre-operative rehabilitation is the stage before you have surgery that allows you to be fully informed about the procedure and your post-op recovery. Our physical therapist will make you feel less stressed about the surgery and ensure a smooth recovery process through hand therapy, sports medicine, massage therapy, and health tips that are part of our comprehensive rehabilitation program. This way, when you wake up from surgery and start recovering, nothing will surprise you-and everything will go smoothly!
We know how important it is to get back into your routine as soon as possible after surgery, which is why we offer post-surgery rehabilitation services too. We want to help you get back on track ASAP with our post surgical physical therapy, so you can get back into the swing of things at work without worrying about anything else holding you back! We will record all the data in our patient info forms to ensure seamless recovery after any surgical correction. Our pre operative rehabilitation and post operative rehabilitation work in sync to take care of any surgical intervention. Whether it's hand pain, shoulder pain, pelvic pain, knee pain, our post surgical rehabilitation and pre surgical physical therapy will prepare you for any surgical procedure and orthopaedic surgery. We use manual therapy, therapeutic exercise, and other treatments to help reduce pain and improve mobility so that when it comes time for surgery, you'll be ready to go. Our team of therapists will work with you to create an individualised rehabilitation plan based on your needs and goals. We have years of experience helping patients overcome common issues, such as chronic pain, scar tissue formation, joint replacement recovery, postural alignment issues, hip replacement recovery and much more! Our rehab programs are designed specifically for people who have undergone surgery or those who are just looking to get back into shape after a long period of being sedentary. We'll work with you one-on-one to create a personalised program that will help you regain your strength and flexibility so that when it's time for whatever life has thrown at you next, you're ready!
WHY PRE-SURGICAL REHAB
Mentally prepare for surgery - knowing what's going to happen during our pre surgical rehabilitation, and what steps are involved helps reduce stress and anxiety about the surgery itself. Surgical rehab also allows us to prepare our bodies ahead of time, which helps reduce pain and inflammation post-surgery. We'll help ease any anxiety around the procedure by explaining what to expect and answering any questions you may have. We'll even provide tips on how best to care for yourself after surgery.
Reduce pain and inflammation - reducing inflammation is key when it comes to getting back into shape after surgery or an injury because it can prevent unnecessary complications during recovery time (like infections).
Restore range of motion, improve muscular control, and normalise movement - This is critical to getting back to normal, and it cannot be possible without proper physio sessions.
WHY POST SURGICAL REHAB
You've just had surgery. You're feeling nervous, scared, and excited all at once. We know the feeling—and we want to help you get back on your feet! You need post-surgery rehabilitation.
Our team of physical therapists can help you with a wide range of therapeutic procedures to treat and rehabilitate the patient from healing time to return to physical activity or sport.
We offer advice and support through the different stages of your recovery. Our goal is for you to reduce pain, swelling, and scarring; improve mobility, flexibility, strength, balance and coordination; get back to daily activities and independence; return to recreational activities, sports, and peak performance; prevent possible complications and compensatory issues; control coughs and breathing problems with chest physiotherapy… whatever it takes!
Our team also offers some unique services like chest physiotherapy, which helps prevent coughing and breathing problems after surgery by strengthening your core muscles and improving lung capacity. Posture Clinic also helps you with spine and slip disc rehabilitation, knee and hip rejuvenation, and fast C-Section recoveries.
If you're looking for an easier way to recover after surgery, contact us today at +91-77601-37578.
Pre-Operative Rehabilitation Helps With:
Mentally preparing for surgery
Reducing pain and inflammation
Restoring range of motion
Improving muscular control of the injured joint
Normalising movement patterns prior to surgery
Improved overall well-being and fitness
Benefits Of Post-Operative Surgery
Advice and support through the different stages of your recovery
Reduce pain, swelling and scarring
Improve mobility, flexibility, strength, balance and coordination
Quick return to daily activities and independence
Return to recreational activities, sports and peak performance
Prevent possible complications and compensatory issues
Control cough and breathing problems with chest physiotherapy
Goal Of Post-Surgery Rehabilitation
Quick return to daily activities and independence
Return to recreational activities, sports & peak performance
Prevent possible complications & compensatory issues
TYPES OF PHYSIOTHERAPY TREATMENTS
Our mission is to help our clients achieve their optimal health by providing them with preventative exercises and physical strengthening treatments that will keep them moving towards their goals. We want to help you live a better life.
Pediatric Physical Therapy
Physical therapy is a great way to help your child grow into the best version of themselves. It's also a way to help them get through the physical challenges that are associated with growing up so quickly. This can be anything from hip dysplasia to flat feet, but it can also be about helping your child develop a strong sense of self and overcome the obstacles they're facing in a healthy way.
Vestibular Rehabilitation
Vestibular rehabilitation focuses on helping you overcome problems of the inner ear which can destroy your balance and be seriously debilitating. Our physiotherapists can help you to teach your body to have better balance and use its muscles to be steadier and sturdier.
Neurological Physical Therapy
The effects of neurological problems on muscles and movement can be smoothed off and made much more manageable. The conditions we provide care for include spinal cord injuries, strokes, multiple sclerosis, Parkinson's, Alzheimer's, brain injuries and cerebral palsy, among others.
Orthopedic Physiotherapy
You've suffered an injury that has left you unable to use certain muscles. If this is the case, don't worry—we can help. Our physical therapy programs are designed to help you recover muscle strength, so you can return to your normal routines as quickly as possible.